Delta IT Solutions caters for the whole range of laptop repairs and upgrades. Our experienced technicians can diagnose the issue and then provide an estimated cost for repairing or upgrading your laptop.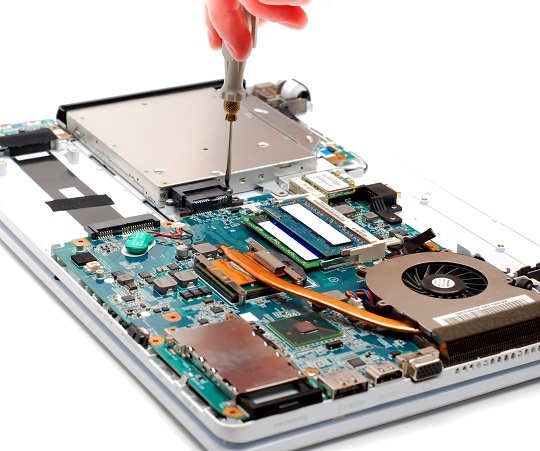 Common issues laptop users experience are:
Broken screen
Broken charger
Worn / broken hinges
Wireless card no longer working
Missing keys
Low Battery life?
Computer won't turn on
Computer making strange noises?
Computer no longer starting up
Computer running really slowly?
Computer running far too hot?
Running out of memory?
Running out of hard drive space?
One of the most common accidents with laptops are that the screens are easily smashed, even picking it up by the lid can put pressure on the screen and break them.
Don't know how to replace that broken screen?
Not to worry! Bring the laptop to us, one of our highly trained technicians will take your laptop apart free of charge and give you a quote to replace the screen.
Does your laptop turn off instantly or within 10-20 minutes when unplugged from the mains?
This is a usually a sign that the battery has died and is not repairable. We order all laptop batteries on demand!
Is your laptop not switching on?
There are many possibilities that could lead to this such as battery failure, charger failure, charging jack fault, motherboard failure and many more. To diagnose the problem bring your computer in and we will troubleshoot the device and see what it would take to get it up and running again.
We provide general tune up to get your laptop running like new again, such as memory upgrades and software based maintenance. Ram helps application to run more smoothly, and faster. You will notice a difference in the amount of time it takes to boot the machine up and open an application.
Is your computer running extremely hot?
By disassembling your machine(s) and giving it a thorough clean and applying new thermal paste to the CPU and heatsink we can make your machine run cooler, this gives it a longer life in the long run. If you want to keep your processor even cooler custom fitted heat sinks can be ordered.
Is there any problems you have that we have not covered and your not sure if we can fix? don't hesitate to contact us or visit us in MIDC Shiroli and we'll do our absolute best to ensure that we get your machine up and running again in no time !