Networking plays a major role in any infrastructure. If the networking infrastructure is not available, then all backend applications are not available for the organization. Also network being the medium for all users to reach the computing infrastructure, it is important to consider the Security factors – this will ensure minimal threat to the Computing infrastructure.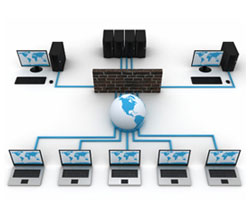 Local Area Network (LAN):
Understanding the application needs
Understanding the office layout for the LAN cabling/ Wireless LAN & arriving at the optimal cabling/ Wireless plans approach.
Working closely with the Architect for the planning of Data Center + astetics aspects of work area Understanding the factors that would enable us recommend the appropriate layer capability of switches/ Wireless plan L2 or L3 Access point feature/ Hot spot planning
Define the roadmap for the future – considering certain future desired needs
Options for 'Network Management'
LAN analysis
Performance
Security
Wide Area Network (WAN):
Understanding the application needs

Bandwidth needs
Connectivity type
Load Balancing / Availability needs
Architecture recommended
Security Aspects

Understand the key reason for interconnecting the various offices
Plan the medium for connectivity

Internet
Private Leased Line/ Radio/ VSAT/ etc.
Virtual Private Network (VPN) using Service Providers

Analyse the Remote/ Mobile Access requirement
Security/ Encryption/ etc.
Define Access Lists for networks/ ports post discussions with internal team
Study the need for products like
WAN Analysis
Performance
Security
Server Management
Most Server environments are getting to be a 24 * 7 * 365 kind of operation. It is becoming imperative that the management is proactive the problem needs to be known in advance or at least it needs to be known when it occurs & also there is a need to have a Self-healing (rule based) approach.
Desktop Management
When it comes to Desktop there is an increasing need for standardization, patch updates, software distribution, Asset information/ control, Anti-piracy control, License Management, etc. Getting this done manually is a huge task & also time consuming adding to all this is the Availability Window for the activity.